---
---
Description
Enjoy a moment of relaxation and uplift the atmosphere!
✔ Aromatherapy:  This essential oil diffuser functions as an air purifier and humidifier. Use it to improve your home's air quality, cover the smell of pets or smoking, and protect you family from excessively dry air, microorganisms, allergens, dust, and more! It have the ability to exert a powerful calming effect on the mind and body as well.
✔ 3D illuminating LED: A changing array of colors as its LED lights shift through 7 mesmerizing colors providing hours of selfless relaxation. If the color changing feature is too bright and keeps you up at night, or is just too distracting to work next to, just press the LED Light Button on the right until you find your favorite color or completely turn off the light and let it run normally.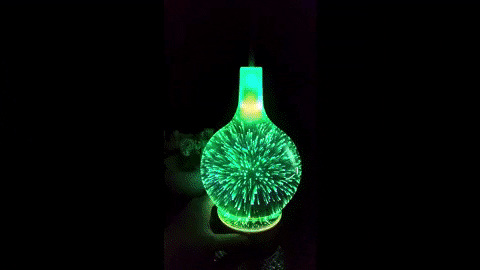 ✔ Smart Auto Shut Off: Holds up to 1L of water that lats 4-8 hours before waterless automatic shut off occurs. The device will turn off automatically when the water level is too low. You can also set a timer of 1-2 hours.
✔ Safe & All Natural: It is made of high quality environmental-friendly polypropylene which are BPA free. This cool mist, no-heat diffuser uses a vibrating plate to break up the oils and create mist, making it safe to use with any essential oil.
✔ Ultra-Quiet Quality Assurance:  The diffuser comes with an ultrasonic technology that main a noise lower than 20db when you use it. It silently protect and improve your dry skin, promote blood circulation, eliminate fatigue, relax and relieve stress, enjoy a healthier life. 
Easy Usage & Cleaning: 
1. Plug in 
2. Remove the cover and Pour Water inside the holder
3. Add in essential oils 
4. Cover it then Turn it on
Specifications:
Name: Aroma Diffuser
Material: ABS + Glass + PP
Product size: 25*15.5CM

Package include:
1 x Aromatherapy Machine
1 x Charging cable
1 x Instruction Manual
WARRANTY: We Promise to Deliver a Premium Product! Included is a warranty or Full Refund - No Questions Asked! If for any reason you are not satisfied or need support, please contact us immediately at support@wallfree.co
Due to extremely high demand; Please allow 6 to 12 working days for delivery. Please be patient, we are doing our very best to fulfill every order that we receive!
---
Let me start off by saying the customer service for this company is one of the best. I am a repeat customer and I feel like I gained a friend now. The communication from them was exceptional, the same way I felt about the diffuser. It is incredibly good looking and does the job well. If you are in the search for a diffuser that will work wonders for your attitude and well being then you have found it here.
Such a beautiful diffuser when the lights are off. It pushes the mist up high and the aroma of the essential oil is very noticeable. Highly recommended. Worth Buy.
This diffuser is really awesome! I've been using it in a bedroom and it effectively fills the whole room with aroma. The cover is actually glass, which I was really impressed by. The base and interior are a hard plastic. The buttons are conveniently located at the front and the cord was surprisingly long, which is nice. But the most impressive thing about this diffuser is how cool it is in the dark. It's like watching fireworks. This is definitely something you really can't go wrong.
People who bought this product, also bought