---
---
DESCRIPTION
Have you ever thought of what to do when it's cold and wet outside?  Do you know that drying clothes indoors is actually really unhealthy due to the extra moisture in the air causing mold? Did you notice that your bath towels are always wet and smelly? 
Breazy™ dries your clothes easily and quickly indoors, with one of the most effective heated technologies! It keeps your clothes, shoes and bath towels warm and dry at all times and helps reduce the moisture content quickly.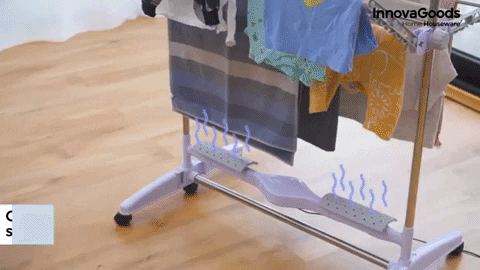 MULTI-FUNCTIONAL

: Breazy™ is an effective and original foldable electric drying rack, that generates a flow of natural air to speed up the drying process without damaging clothes. More than just warming up clothes and towels, you can use this towel warmer to quickly dry bathing suits after a summer day in the pool, or warm up a blanket in the wintertime before snuggling with it on the couch.
MODERN & STYLISH

: It comes with 5,6 and 12 bars. The color will fit for any decor; making it ideal for warming up the whole family. Your family will get cozy clothes and towels  Its unique design will provides much convenience for your whole family in daily life.
SECURE & EFFICIENT

: Breazy™ is much more economical than tumble dryers and very secure; the racks become warm without getting hot!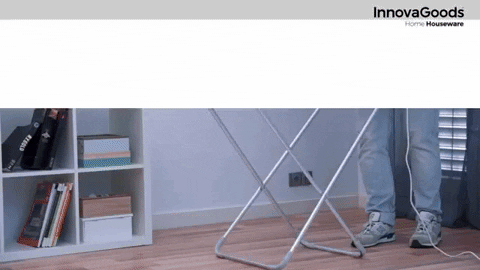 PRACTICAL: Breazy™ is made of spray-painted premium iron, which ensures long-lasting usage and heats up quickly. Featuring a safe built-in On/Off switch and 100W high power to quickly heat your towels. Easy to fold, require minimal space and can be neatly folded for storage! 
Product Features
Material:

Button: On/Off
Max. supported weight: Up to 20 kg
Low consumption
Power: 24 W

220-240 V / 50 Hz / 0,5 A // 12 V/ 2000 mA

Includes:

Current Adaptor

100-240 V / 50-60 Hz / 0,5 A / 12 V / 2000 mA

Type of plug: C

Power cord: approx. 1.60 m

Approx. dimensions: 87 x 143 x 65 cm

Packaging and manual in multiple languages
INSTALLATION&USAGE: All necessary hardware and tools are included in the package. It's very easy to assemble with our multiple languages manual. And the towel warmer can be wall-mounted (save space) or free standing (easy moving), Convenient installation from one style to the other depends on what you want. 
WARRANTY: We Promise to Deliver a Premium Product! Included is a 1-year warranty or Full Refund - No Questions Asked! If for any reason you are not satisfied with the product or need support, please contact us immediately at support@wallfree.co 
Express Delivery: Your parcel will arrive within 3 to 5 working days after you place your order.
---
Satisfied!
Have bought a 12 bars one and it definitely have saved me a lot of hassle doing laundry especially I do not need to worry on the weathers!
I would recommend to anyone. Reasonably priced and feels solid. Just make sure expectations are not unrealistic. By the way, it came quickly, well packaged and in good shape.
I love it and use it twice per day. It Heats up two bath sized towels in about 10 minutes. when I get up I push the On button, get in the shower, and I have an amazing delightfully warm towel. After I dry off, I place and fold the towel on the rack. It dries quickly on the rack with the heat.
This was my first purchase of this product. I bought it for one of our guest rooms. It definitely keeps towels warm. Have been using it for three months now and it's still working well.
I loved the first one so much, I had to buy another one for the guest bath. Such a simple assembly... Looks nice just as a towel rack. The 'footer' is wide enough in front that I set a rectangular metal basket in that area for magazines. Looks great!
Work's better than advertised! Glad I bought 2 of them. I kept one and gave one to my parents. I've used mine for 2+ weeks. Currently, mine is free standing but I hope to add an outlet to that wall of the bathroom in the coming weeks and attach it to the wall. Nice to have both options.
Use it for two days now, it warms up quicker than I expected. For wet towels, it takes a little bit longer to dry but works well. Don't know how much electricity will eat by use it, but definitely happy with it. Plus it's easy to assembling and free standing. It has an on/off button that you can shut off when you don't use it.
As many other reviewers have noted, a towel warmer does not replicate the feeling of a hot towel from the dryer. But this freestanding unit was easy to assemble and does more than adequate job. Wrap your clothes and towels around the rails and they will be warm to the touch. A pleasant feeling in the morning after a shower. We chose to put it on a timer as a precaution against too much energy use, but have not seen a bill yet so not sure if there has been any impact on the utility bill.
I use it for drying my clothes after I use my portable washer. You can smell the laundry. It smells up the whole room or apartment. Great for winter laundry because the heat travels throughout. It saves energy and it won't run up the light bill. Use can also use it outside without the heater if you prefer to use the sunshine and air outside. It save space and you can store it in the closet, corner, under the bed or in the garage. You won't be disappointed.
This is an excellent product! This dryer exceeded my expectations. It dries the clothes in a relatively short amount of time. It easily breaks down for easy storage and takes up very little space. I would definitely recommend this dryer. Great product! The company was very professional and pleasant to deal with as well!
People who bought this product, also bought