Description
GO BEYOND BREAKFAST!
Do you love waffles but hate the thought of needing another appliance to whip up those tasty treats? Need a delicious new way to enjoy waffles? 
Now, you can make your own fresh waffles... With Gaufrette™ you get a fabulous taste from waffles just out of the oven! Gaufrette™ is the perfect tool to make those crispy, sweet delights. It's as simple as whipping up a batter, filling the mold, and popping it into the oven.
EASY TO USE: Gaufrette™ is easy to use and quick to clean; when you're ready to store this tray, simply fold the soft silicone and put it in a cabinet or drawer. Easy to clean and store! Gaufrette™ makes waffles that pop out easily and don't stick. Now you can make perfect non-sticking waffles that your family will love you for.
NON-STICK: Flexible and easy to clean, with Gaufrette™ you get a fabulous taste from waffles just out of the oven! Your family and kids will love it when it pops out with good and delicious detail shapes. These are also perfect for enjoying with friends over coffee, tea, or hot chocolate! 
ECO-FRIENDLY: Very practical and durable; Gaufrette™ is made of 100% quality food-grade silicone. Meets US FDA and European LFGB safety standards. It's also BPA, PVC, and Phthalate free! Gaufrette™ is harmless; silicone rubber does not react with food or produce any hazardous fumes.
MULTI-PURPOSE: Ideal for Making Pudding, Cake, Candy, Chocolates, Crayons, Candles, Hard candy, Fondant, Jello, Frozen yogurt treats, Ice Cubes with Fruit Juice, Cake Decorations, Party Favors for Birthdays and Baby Showers and more.
TEMPERATURE SAFE

: Safe for Microwave, Oven, Freezer, Steamer, Dishwasher and Super Heat Insulation... Gaufrette™ is a heat and cold resistant; from -40℃ to +230℃ (-40℉ to 446℉).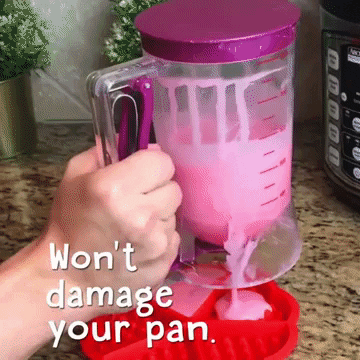 EXTRA:

Waffles, muffins, brownie mix, and even pizza sauce: all fit perfectly through our dispensing valve, offering you the fantastic versatility to use your imagination and be in control of your bakery mixes on your griddle and waffle mold. If the batter is too thick, just add a bit of extra liquid and it will work perfectly. This waffle and pancake accessory also supplies an easy-pull trigger handle grips system. 
Warranty
We Promise to Deliver a Premium Product! Included is a warranty or Full Refund - No Questions Asked! If for any reason you are not satisfied with the product or need support, please contact us immediately at support@wallfree.co
Free Shipping
Because of the extra measures and health precautions taken by our shipping partners related to the COVID-19, our processing time has now increased to 6-12 business days. Please allow 3-5 business days for your order to be shipped and an additional 4-7 business days for your order to reach your address.
Payment & Security
Your payment information is processed securely. We do not store credit card details nor have access to your credit card information.