---
---
DESCRIPTION


Make your life a little smoother with this easy iron & steam at anywhere, on anything.
✔ Effective & Efficient: Remove wrinkles fast and efficiently. Preheats in only 35 seconds, with detachable large 260ml (8.79 oz.) water tank that can last for 20 minutes of continuous steaming.
✔ 5 in 1 MULTI-FUNCTIONAL STEAMER: Ironing, disinfection, humidification, wrinkle & dust removal. It works gently on even the most delicate fabrics and is suitable for all fabrics to kill bacteria and remove odors easily. You can freshen many items and are not only limited to clothes. Perfect for steam cleaning for carpets, curtains, bedding, cushions, sofa, kids toy and more. Package includes perfect lint remover plus refresh brush makes it a versatile machine.
✔ Elegance Wrinkle-free: Clothen™ is the perfect helper as it effectively removes wrinkles with 50% more steam output per minute (when compared to a similar competitive steamer). The 7-hole nozzle and wide steam exit penetrates steam into more fabric area thoroughly, the18G/MIN steam flow comes out powerfully and evenly to remove the toughest wrinkles. 
✔ Portable and Convenient:  Clothen™ is designed to allow easy packing and storing, meaning you'll always have great looking clothes on business trips, vacations, or any other time you're away from home. De-wrinkle your clothes quickly, safely and gently anywhere, anytime. Storage bag included.
✔ 100% Safe:  Clothen™  is approved by CB/CE and it is safe to use. Clothen™  will automatically shut-off when the water reservoir runs dry or when it gets too hot. Made of high quality ABS material that is more durable and heat-shielding, never worry about hand scald and burnt fabrics.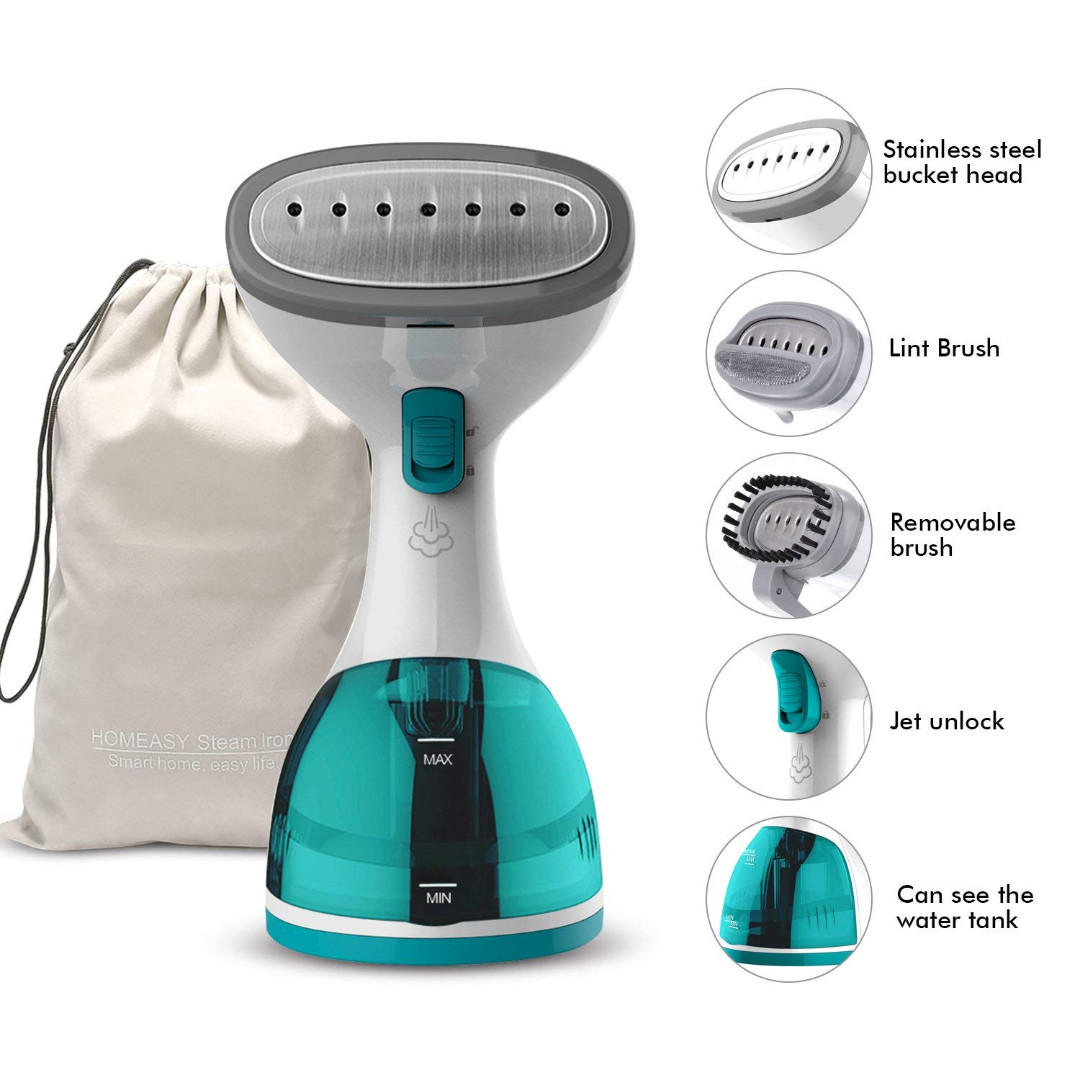 Specification:
Power/Wattage: 1000 watts
Voltage (V):  220V
Power Cord Length: 1.9m
Water Tank Capacity: 260ml
Preheating Time: 35 seconds 
Run Time: Up to 20 minutes of continuous steaming
Package weight:  Approximately 1.38 kg
1 Box includes: 
1 x Clothen™ 
2 x Brush, (Removable Lint brush & Removable fabric brush)
1 x Instruction Manual
WARRANTY: We Promise to Deliver a Premium Product! Included is a warranty or Full Refund - No Questions Asked! If for any reason you are not satisfied with Clothen™ or need support, please contact us immediately at support@wallfree.co
Due to extremely high demand; Please allow 5 to 7 working days for delivery. Please be patient, we are doing our very best to fulfill every order that we receive!
---
Very responsive seller! The steamer came packed well today. The quality of the product seems great as well. I am really enlighten with my order. Highly recommending seller :)
I have been using the product for a week and now it is the time to review it. I chose this steamer because of friend's recommendation. I am very pleased with it. This little guy saves me from pulling out the ironing board and moving shirts/trousers endlessly from side to side on the board. There is no limitations to use in different positions (held it sideways without leaking). It is easy to grip, lightweight and takes wrinkles out of fabric like magic! Easy to open and refill the water tank. Finally, at this price range it was a great purchase. So you can't fault it on that and I am very happy with the product quality all round am highly satisfied. Definitely recommend!
People who bought this product, also bought